If you read my last post about planning your business and creating a timeline, you may have lost all of your enthusiasm — especially if you are not a numbers type.  Before you throw up your hands and give up on your entrepreneurial dreams, look for creative ways to capture your thoughts.
We talked in an earlier post about mind maps. If you didn't read that post, you can find it here. There are other ways too. Some people use vision boards to capture their vision before attempting to turn their ideas into written plans.
What is a Vision Board?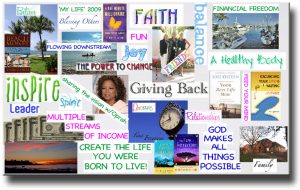 A vision board is a collection of images, quotes and symbols that have meaning to you and which bring out feelings of joy, peace, love and happiness. They represent your dream life.
Vision boards come in many different formats, both digital and physical. We'll talk more about that later, but for now, let's take a look at the types of content. Images – by far the most common item to find on vision boards – can be photos, drawings, mind maps, sketches or anything else that has meaning for you.
In addition to images, people often include inspirational quotes, motivational messages and anything else that embodies the vision of the company you are trying to create.